Value of Food Labels
Scenario:
You are at the grocery store and want to buy some crackers, but you want to choose the healthiest option. You are considering two different brands and decide to compare the nutrition labels on the boxes. The image below shows what you see for Cracker A and Cracker B.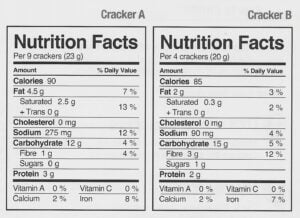 Instructions:
Apply what you have learned in the course, and answer the following questions using complete sentences that reflect proper spelling/grammar.
What significant differences do you see between the nutrients in these brands?
Reading the food labels before purchasing is essential as it informs us of the nutritional value and quality of the foodstuff we plan to purchase. Significant differences exist in the nutritional contents between the two crackers provided in the scenario. For instance, cracker B has more caloric content than cracker A. Cracker B contains 85 calories per 4 crackers, whereas cracker A contains 90 calories per 9 crackers. On comparing the fat contents, cracker B contains less saturated fats in comparison to cracker A. Lastly, the sodium content of cracker A is higher in cracker B with 275mg and 90mg, respectively. Cracker B has more fiber and sugars than cracker A, hence, higher carbohydrate content.
What are the serving sizes for each brand? Why is it important to note serving sizes when comparing?
Cracker A serves 23g per nine crackers, while cracker B serves 20g per four. Serving size refers to the standard amount of nutrients/food per package, for example, in ounces or cups. According to the Active Family Team (2018), reading the serving sizes on the food labels is essential as it enables the buyer to choose a product with nutrient value recommended for them. For example, patients with chronic illnesses such as diabetes can avoid foodstuffs with high sugar content. However, the serving sizes on the food labels do not dictate how much food someone should take.
Are either of these crackers low in sodium according to current recommendations? What are the current sodium recommendations for a food considered "low sodium?"
Cracker B contains less sodium than cracker A, with a daily value of 90g and a daily percentage value of 4%. This is low compared to the current sodium recommendations. According to the Food and Drug Administration (2021), the daily value of sodium should not exceed 2300mg per day, and the daily percentage value should be between 5-20%. Any daily sodium value below 5% is considered low, while a daily percentage value above 20 percent is considered high. Before choosing food, it is essential to check the value of sodium in each serving of the food before purchasing.
Which cracker ("A" or "B" brand) should someone choose if they are trying to eat less fats (both saturated and trans fat), less sodium, and more fiber?
Cracker B contains less sodium, fiber, and saturated fat from the food label than Cracker A. For someone considering a diet with less sodium, less saturated fats, and high fiber, I would prefer Cracker B to Cracker A. Cracker A contains sodium within the recommended range. However, it has high saturated fats and low fibers.
In your opinion, which is the "healthier" cracker snack? Explain your reasoning.
In my opinion, the healthier cracker snack is cracker B. A healthy diet contains low saturated fats, high fiber, and sodium within the recommended range and the recommended calories for each individual (Food and Drug Administration, 2021). Food with high saturated fats predisposes one to lifestyle diseases such as coronary heart disease and diabetes. Additionally, a high-sodium diet is associated with hypertension, and therefore, foods containing high sodium content should be avoided. Lastly, a high-fiber diet is essential for proper bowel emptying, and to avoid constipation and its associated complications, one should take a diet high in fiber. Bearing this in mind, the appropriate snack, therefore, is cracker B.
References
Team Family, T. (2021). The Importance of Reading the Food Label and Nutritional Facts. The Active Family. Retrieved 10 November 2021, from https://theactivefamily.org/food-label/.
U.S. Food and Drug Administration. (2021). Retrieved 10 November 2021, from https://www.fda.gov/about-fda/about-website.
ORDER A PLAGIARISM-FREE PAPER HERE
We'll write everything from scratch
Question 
---
Module 06 Content
Reading and understanding food labels can often feel like understanding a new language. However, it is essential that consumers can read and interpret the nutrient content in the foods they consume.
Have a similar assignment? "Place an order for your assignment and have exceptional work written by our team of experts, guaranteeing you A results."