Understanding Autosomal DNA Ethnicity Estimation
Understanding Autosomal DNA Inheritance
Autosomal DNA (atDNA) is inherited through autosomal chromosomes called autosomes. Autosomal chromosomes include the first 22 pairs of chromosomes out of 23. A child inherits one autosome from the mother and the other from the father (Genetic Science Learning Center, 2016). Additionally, each autosome is shuffled in a random process called recombination before inheriting it. Therefore, a child inherits random pieces of atDNA from his parents and their ancestors. Consequently, some pieces of atDNA might be lost over generations due to mutations brought by recombination. Understanding atDNA ethnicity estimation is important because it implies that one understands what atDNA is, how it is inherited, and its impact on ethnicity estimation.
Understanding Ethnicity Estimation Results
In accordance with Jake and Henry's 23andme results, it is uncertain whether Henry is Jake's biological father. Jake is 95.5% European, 3.1% East Asian and Native American, 0.8% Sub-Saharan African, and 0.1% Middle-Eastern and North African, while Henry is 100% European and ˂ 0.1% East Asian and Native American. Accordingly, Jake has additional Sub-Saharan African, Middle-Eastern, and North African genes that Henry lacks. This implies that Jake inherited these genes from somebody else, not Henry. Therefore, based on these results, Jake is not likely to be Henry's biological son.
Conclusion
To summarize, understanding atDNA and its inheritance is essential in understanding atDNA ethnicity estimation. atDNA inheritance shows that people could be carrying pieces of DNA from their ancestors of many generations ago. Understanding atDNA inheritance is also important in understanding and analyzing ethnicity estimation results. Jake, for instance, discovered that he carried additional DNA that Henry lacked. Finally, the best approach to understanding his genealogical roots is to compare his results with other relatives willing to take DNA tests.
References
Genetic Science Learning Center. (2016). Introduction to Molecular Genealogy [Video]. Retrieved 10 December 2021, from http://learn.genetics.utah.edu/content/basics/molgen/.
ORDER A PLAGIARISM-FREE PAPER HERE
We'll write everything from scratch
Question 
---
In this activity, you will further assess your ability to analyze ethnicity estimates provided by a testing company by examining a test-taker's results and comparing them to his father's results.
Read the following scenario and, based on your understanding of ethnicity estimate calculations, answer the questions below:
Jake received the following ethnicity results from 23andMe: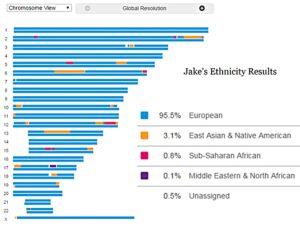 Jake's father, Henry, received the following ethnicity results from 23andMe: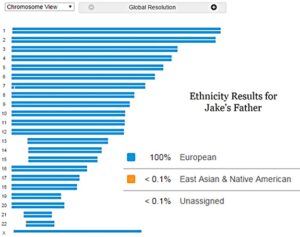 Jake has always wondered whether Henry is really his biological father. Based only on these ethnicity results, without considering the relationship prediction or other factors, could Henry be Jake's father? Why or why not? Explain your analysis in detail.
Your assignment is due by the end of the module, Sunday at 11:59 PM EST. Be sure to use proper APA or Chicago-style formatting.  For assistance with proper formatting, visit the library's Citing Sources.
Compose your work in a .doc or .docx file type using a word processor (such as Microsoft Word, etc.) and save it frequently to your computer. For those assignments that are not written essays and require uploading images or PowerPoint slides, please follow the uploading guidelines provided by your instructor.
Have a similar assignment? "Place an order for your assignment and have exceptional work written by our team of experts, guaranteeing you A results."