Strategic Analysis
A well-known American retail store chain, J.C. Penney Company, Inc. (JCP), is a company that is having financial difficulties resulting in filing for bankruptcy. JCP has a chain of 840 department stores in the United States and Puerto Rico. This retail store focuses on selling fine jewelry and general retail merchandise. Due to net losses of about $ $3.7 billion in debt, JCP filed for bankruptcy in May 2020 (Isidore & Meyersohn, 2020). JCP is a great candidate for restructuring its strategic plan and management. Being innovative, improving customer relations, and increasing the effectiveness and quality of products and services will help JCP gain a competitive advantage.
J.C. Penny Financial Results
 JCP reported that their total net sales were $10.72 billion for the fiscal year 2019. However, JCP reported $11.66 billion in total net sales for the fiscal year 2018. The reported decrease for 2018 was 2.3%, while the reduction for 2019 was 5.6% (J.C.Penney 2019 Fourth Quarter and Full Year Earnings, 2020). Before the current pandemic, JCP's 2019 primary revenue assets halted, resulting in a struggle for profits and poor financial performance. Due to the pandemic, JCP further struggled, leading them to try a strategic move that took advantage of the one-month grace period and not make a scheduled interest payment due April 15. The purpose of this was to allow time to consult with lenders. In addition to debt, JCP has needed restructuring for many years.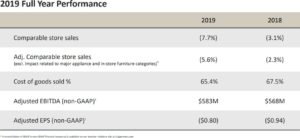 Financial Performance Improvement Recommendations
 JC Penney will need a strategy to reduce overhead costs and improve its cash flow to restore its financial performance. Cash flow is critical for JCP to recover its position because this is its best liquid asset, making it valuable and essential to survival. To allow JCP to achieve maximum cash flow, they can lease/rent equipment instead of purchasing and enhance their inventory. By increasing cash flow, JCP can take advantage of opportunities when they are beneficial and can also issue supplier payments immediately instead of credit. JCP should focus on its inventory and analyze it to compile a list that is not selling as effectively as other products. This is because a stock that does not move does not generate cash flow; it hinders it. Compiling a list of slow-moving inventory will enable the company to discount the items and still attempt to generate cash flow.
Another financial performance recommendation includes reducing the number of overhead costs. The costs include rent, legal fees, taxes, accounting fees, and utility and maintenance (Thompson, 2018). JCP should consider operating its stores with less space to reduce rental costs while offering a premium shopping experience. Reducing its size but still offering excellent service will ensure that JCP can compete successfully with other companies in the same industry, such as Target, Macy's, & Kohl's. Eliminating unwanted costs allows the company to specialize in more lucrative areas.
Sustainable Competitive Advantage Strategies 
A substantial factor: competition directly threatens JCP's success. These competitors include traditional retailers, high-end retailers, low-end retailers, warehouse clubs, and superstores (Thompson, 2018). The market is shared with JCPenney and other retailers from different companies. The presence of superstores and warehouses is a threat to JCPenney because customers are very attracted to buying in bulk because of the discounts and saving money. The low-end stores are a competitive threat because not only do they offer customers savings but also convenience. JCPenney should change its approach to address these threats in ways that will compete with the warehouses and superstores and increase the market share. One way to implement a competitive advantage is to provide its customers with private labels and prestigious brands. Implementing this strategy will increase JCPenney's competitive advantage because customer traffic will be increased. By doing this, JCPenney has the opportunity to produce higher margins and the potential to recover customers by providing a more luxurious shopping experience.
A 2nd recommended competitive strategy for this company would be to create and implement a customer loyalty program. This program usually works by awarding points to customers for their purchases,  which they collect and can redeem later. This simple recommendation can improve and retain customer loyalty. In addition, this strategy provides added benefits as this program can be used to collect customer data that can be analyzed to identify behaviors and provide a more personalized shopping experience.
Strategy Implementation Plan
 Strategies created will translate into actions to achieve the objectives and strategic goals during implementation (Thompson, 2018). The strategic plan is ultimately the responsibility of top managers. Still, it should be reviewed by the CEO, who will authorize its implementation unless elements are identified as challenging. Next, the executive team will generate the vision for strategy implementation. This vision strategy includes objectives to be completed and other unfinished items. The next step to implement the plan consists of selecting a marketing expert team to seek out any potential errors with the plan implementation.
Furthermore, it will be critical that regular meetings occur to review and discuss development reports. The strategic planning members will be included in these meetings. This is to inform the team of any changes, accomplishments, the current schedule, and the implementation status, such as on schedule, ahead, or behind.
Conclusion
Using a strategic analysis, JCPenney can improve financial performance and achieve a competitive market advantage. JCP can secure a position in the market by taking advantage of closing some of its locations. The company can optimize the remaining stores by stocking the shelves with sought-after brand names and private labels. JCP should also consider other strategies as well. For example, a customer loyalty program will offer customers perks and rewards while collecting customer data that can be analyzed to learn what the customers like and what they do not like and to provide customers with a more personalized shopping experience. To achieve positive results, these recommended strategies should be implemented by senior management to ensure a smooth transition.
References 
Cash Flow. J. C. Penney Company, Inc. (2020). Retrieved December 17, 2020, from https://ir.jcpenney.com/financial-information/cash-flow.
Isidore, C., & Meyersohn, N. (2020). JCPenney files for bankruptcy. CNN. Retrieved December 17, 2020, from https://edition.cnn.com/2020/05/16/business/jcpenney-bankruptcy/
JCPenney 2019 Fourth Quarter and Full Year Earnings. JCPenney(2020). https://ir.jcpenney.com/news-events/press-releases/detail/608/j-c-penney-company-inc-reports-fourth-quarter-and-full#:~:text=Fourth%20Quarter%202019%20Results&text.
Thompson, A.A., Peteraf, M.A., & Gamble, J.E., & Strickland III, A.J. (2020). Crafting & Executing Strategy: The Quest For Competitive Advantage, Concepts, and Cases (22nd ed.). McGraw-Hill Education.
ORDER A PLAGIARISM-FREE PAPER HERE
We'll write everything from scratch
Question 
---
In Wk 2, you completed a SWOT analysis on a successful company demonstrating a sustainable competitive advantage in the marketplace. Now, you will shift your focus to look at a company that is failing or experiencing challenges in the area of financial performance.
Select and research a company with financial difficulties or is on the brink of bankruptcy.
Review "Where Can I Find a Company's Annual Report and Its SEC Filings?" from Investopedia.
Conduct a strategic analysis of the company's current financial operations. Determine strategies for achieving a sustainable competitive advantage in the marketplace and increasing financial performance.
When writing your analysis, complete the following:
Evaluate the company's current financial plan, including charts and graphs showing financial data from the struggling company, and make recommendations for improvement.
Determine strategies for achieving a sustainable competitive advantage in the marketplace and increasing financial performance.
Create a plan to implement the strategies you selected.
Have a similar assignment? "Place an order for your assignment and have exceptional work written by our team of experts, guaranteeing you A results."